I've been working on my design skills over the past couple of months, and suffice to say, I have improved greatly since I made this crap layout. I'm in the middle of designing a brand new one. I had one fleshed out and almost ready to go...but then I realized I really hated it, so I'm starting over.
Here's a taste of what's to come (this weekend maybe??):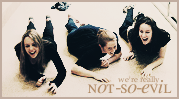 So keep your eyes peeled.
And as for
Episode 6
? Well, Ellie, Nan and I have been so busy with school, it's not even funny. So...we're thinking sometime later on in October. Maybe a special Halloween release? A Halloween Photoshoot (because we're that bored)?
TRICK OR TREATING AT DAVID B'S?!
There is a ton in store, so stay tuned. :D
Thanks for your support!